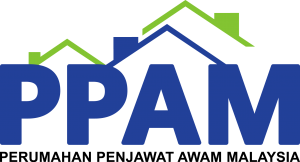 Introduction

PPAM is an affordable housing scheme for civil servants. The program was launched in early 2013 following the decision of the Cabinet on 30 January 2013 and 27 March 2013 which agreed to study the initiative to enable civil servants especially those with low and middle income to buy houses, especially in major cities.
On 1 October 2014, the PPAM Unit, JPM was set up to take over the role played by UKAS, JPM. The establishment of this Unit is to pay special attention in planning, controlling program implementation and monitoring of PPAM projects. With the existence of this Unit, the role of the Implementing Agency is taken over by the PPAM Unit, JPM. Other Implementing Agencies are the Putrajaya Corporation for the Federal Territory of Putrajaya.
PPAM is an affordable housing scheme for civil servants who emphasize the comfort of the size, design, quality, location and the appropriate housing prices for civil servants.
The scheme is aimed at helping civil servants, especially young and middle-income civil servants to have quality homes at strategic locations at affordable prices or lower than market prices.
All civil servants including those who work with the Federal Government, State Government, State / Local Authorities, Federal Statutory Bodies and State Statutory Bodies are eligible under this scheme.
Eligibility Criteria
 Application is only open to members of:
• Federal Civil Service
• State Civil Service
• Federal Statutory Body
• State Statutory Body
• Local Authorities
All civil servants from all grade positions may apply.
You must be a Malaysian.
Pensionable and contracted civil servants are also eligible to apply.
You can apply for more than one project at a time, but you will be offered only one project per household (if successful).
A 10-year moratorium will be imposed where the purchased house cannot be transferred or sold without the permission of the Government except to the next of kin such as spouses or children.
You must not own any PPAM in any other states.